Sheringham Shoal helps 'About with Friends' become 'green'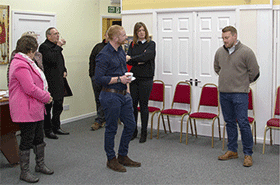 30-01-17
A small group of supporters, trustees and members of the Cromer-based organisation, 'About with Friends', gathered with representatives of the Sheringham Shoal Offshore Wind Farm at its operational base on 24th January 2017, to witness the 'Grand Switch On' of a new lighting system.
Cromer and District Food Bank 'electrified' by Sheringham Shoal
23-09-16 Sheringham Shoal Community Fund [SSCF] has awarded a grant to the Cromer and District Food Bank [C&DFB] to enable the purchase of a Nissan e-NV 200 van.
09-09-16 Statkraft re-evaluates UK offshore wind portfolio
Statkraft prepares a possible divestment of shares in Sheringham Shoal, Dudgeon and Dogger Bank.
The operator role at Sheringham Shoal will be transferred to Statoil.
The world needs more energy, and in future ever more of its energy supply will need to be obtained from renewable resources such as hydropower, waves and wind. With around 40% of the EU's entire wind resources available in British waters, it makes sense to harness the wind.
The 316.8MW Sheringham Shoal Offshore Wind Farm, located between 17 and 23 kilometres off the coast of North Norfolk in the UK, comprises 88 wind turbines and will generate around 1.1TWh of green energy per annum. This is enough clean energy to power almost 220,000 British homes. Compared to fossil fuels that is a reduction of around 500,000 tonnes of CO² emissions every year.
Sheringham Shoal is owned by Statoil, Statkraft and the Green Investment Bank through joint-venture company Scira Offshore Energy Limited. This project has drawn on know-how from Statoil's longstanding offshore activities and Statkraft's expertise in relation to renewable energy. Statkraft is the operator of the Sheringham Shoal Offshore Wind Farm.