Sheringham Shoal Offshore Windfarm boosts local emergency care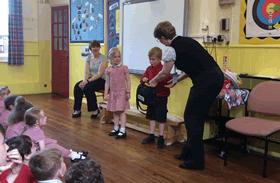 06-07-16
Sheringham Shoal Offshore Wind Farm [SSOWF] has donated a defibrillator to Terrington St John Junior School for use both in the school and by the local community. It was presented to the staff and pupils on 24th June 2016 by Kay Reeve from SSOWF.
A UK first - Sheringham Shoal charters WaveCraft
19-04-16 The arrival of the WaveCraft vessel Umoe Firmus in the harbour at Wells-next-the-Sea at the end of February 2016 created quite a stir. Known as a Surface Effect Ship, Umoe Firmus is one of a new generation of personnel transfer vessels [PTVS] designed for use by offshore farm developers and operators.
New Power Plant Manager for Sheringham Shoal
25-02-16 Statkraft has appointed Adam Blake as Power Plant Manager for the Sheringham Shoal Offshore Wind Farm.
Application to vary the Section 36 Consent for the Sheringham Shoal Offshore Wind Farm documents - click here
The world needs more energy, and in future ever more of its energy supply will need to be obtained from renewable resources such as hydropower, waves and wind. With around 40% of the EU's entire wind resources available in British waters, it makes sense to harness the wind.
The 316.8MW Sheringham Shoal Offshore Wind Farm, located between 17 and 23 kilometres off the coast of North Norfolk in the UK, comprises 88 wind turbines and will generate around 1.1TWh of green energy per annum. This is enough clean energy to power almost 220,000 British homes. Compared to fossil fuels that is a reduction of around 500,000 tonnes of CO² emissions every year.
Sheringham Shoal is owned by Statoil, Statkraft and the Green Investment Bank through joint-venture company Scira Offshore Energy Limited. This project has drawn on know-how from Statoil's longstanding offshore activities and Statkraft's expertise in relation to renewable energy. Statkraft is the operator of the Sheringham Shoal Offshore Wind Farm.