LATEST NEWS
Further recruitment at Sheringham Shoal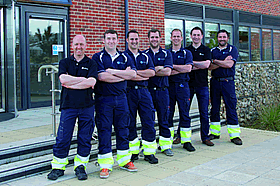 May 2014
During Spring 2014, Statkraft, with responsibility for Operation and Maintenance of the SSOWF site, has successfully recruited eight additional personnel to add to the existing team working out of Wells-next-the-Sea, with the support of East Anglian recruitment specialists, Cooper Lomaz.
Statkraft becomes the Operator of Sheringham Shoal Offshore Wind Farm
13-01-2014 A reception was held at Wind Farm Place, Wells-next-the-Sea, Norfolk on 9 January 2014 to celebrate Statkraft becoming the Operator of the Sheringham Shoal Offshore Wind Farm.
Fresh recruitment at Sheringham Shoal Offshore Wind Farm
12-11-2013 During Autumn 2013 four new recruits have joined the expanding team operating the Sheringham Shoal Offshore Wind Farm. Four new positions have been created as part of the planned organisation strategy to support the efficient maintenance and safe operation of the plant.
The world needs more energy, and in future ever more of its energy supply will need to be obtained from renewable resources such as hydropower, waves and wind. With around 40% of the EU's entire wind resources available in British waters, it makes sense to harness the wind.
The 317MW Sheringham Shoal Offshore Wind Farm, located between 17 and 23 kilometres off the coast of North Norfolk in the UK, comprises 88 wind turbines and will generate around 1.1TWh of green energy per annum. This is enough clean energy to power almost 220,000 British homes. Compared to fossil fuels that is a reduction of around 500,000 tonnes of CO² emissions every year.
Sheringham Shoal is owned equally by Statoil and Statkraft through joint-venture company Scira Offshore Energy Limited. This project has drawn on know-how from Statoil's longstanding offshore activities and Statkraft's expertise in relation to renewable energy. Statkraft is the operator of the Sheringham Shoal Offshore Wind Farm.