As well as providing individual sponsorship for relevant projects and events in North Norfolk, Scira has worked with the Norfolk Community Foundation to establish the Sheringham Shoal Community Fund. The fund provides grants to North Norfolk community groups, including schools and NGOs, seeking financial assistance for projects or initiatives that meet key criteria and focus on renewable energy, marine environment and safety, sustainability, or education in these areas.:
Interested groups can find out more or submit an outline proposal form, available from www.norfolkfoundation.com at any time. The grant panel will consider outline proposals and selected applicants will be invited to submit a full proposal for consideration. Full applications are normally considered at meetings twice a year with the next scheduled for May 2012
Since its establishment in 2010, the Sheringham Shoal Community fund has made grant awards totalling around £100,000 to the following organisations:
Organisation
Purpose
Date Awarded
Project Areas
Ryburgh Community Enterprise
To install a solar PV system to the shop.
NOV 2012
Ryburgh
National Coastwatch Institution Mundesley
To establish a new Coastwatch station at East Runton
NOV 2012
East Runton
Sheringham Woodfields School
To install PIR lighting and electric hand driers
NOV 2012
Sheringham
Aylmerton Village Hall
Funding towards 'Raising the Roof' project - specifically the installation of integrated solar PV panels.
NOV 2012
Aylmerton
Alderman Peel High School
Funding to install solar hot water heating for the school/community swimming pool.
MAY 2012
Wells
Bodham Parish Council
Funding to help with the regeneration of Bodham Common to a lowland heath.
MAY 2012
Bodham
St Seraphim's Trust
Funding for a range of materials and plants to further develop the community garden.
MAY 2012
Walsingham
North Norfolk Surf Life Saving Club
Funding to help establish a life saving youth training programme.
MAY 2012
Cromer
Blakeney Parish Council
Develop a project plan obtaining necessary consents and approvals to dredge the channel and carry out a first phase of dredging.
MAY 2012
Blakeney
1st Mundesley (Air) Scout Group
Install 20 photovolteic panels n the hall roof
MAY 2011
Mundesley
Sheringham & District Preservation Society
To replace current lighting with 80 x 6w LED bulbs.
MAY 2011
Sheringham
Wells Maltings Trust
Funding towards the costs of architects design fees.
MAY 2011
Wells
Norfolk Ornithologistsí Association
Analyse five years worth of birdwatching data
MAY 2011
N. Norfolk wide
Museum of the Broads
Contributing towards the costs of the installation of photovoltaic solar EoG form returned 1.6.12 with pictures and invoices. The solar panels were installed over a two day period in late November and became operational on 6th of December.
MAY 2011
Stalham
Wells Area Partnership
Funding for the "how to green guide" project.
MAY 2011
Wells
National Coastwatch Institution, Mundesley
Funding to replace three windows in the Coastwatch station.
DEC 2010
Mundesley
Holt Community Centre
Funding for a two part green energy project involving photovoltaics and cavity wall insulation.
DEC 2010
Holt
The Mason Trust
Funding towards the costs of the climate run at Holkham Estate
JUNE 2010
Holkham
Unity Wind Limited
The costs of a traffic and noise survey and associated expenses for a proposed community wind farm.
JUNE 2010
North Walsham
Norfolk Ornithologistsí Association
Analyse five years worth of birdwatching data
JUNE 2010
N. Norfolk wide
The aim of the National Coastwatch Institution Mundesley is to ensure the safety of those at sea or on the Mundesley foreshore, and help the HM Coastguard by keeping a visual and radio watch to monitor both the local weather and sea conditions.
Volunteers working from the Coastwatch station need to have a clear view out to sea and along the coast to fulfill this role and ideally can do it with a degree of comfort.
The organisation realised the windows were less than satisfactory for this so applied to the Sheringham Shoal Community Fund for a grant to replace them. The grant was awarded and early in 2012 the station was fitted with not only new windows, but also a full overhaul including a redecoration, carpet tile installation, refurbished console and chart table and new internal wiring.
Coastwatch's Derek Evans said that the new windows and the rest of the work has considerably improved the working environment for the volunteer watchkeepers, who are mostly retired people.
"It is certainly warner and less draughty and the condensation inside the windows during the cold spells has ceased," he added.
The building was re-opened in March by local MP, Norman Lamb with guests including the Chairman of Mundesley Parish Council and representatives from HM Coastguard and the Royal National Lifeboat Institution.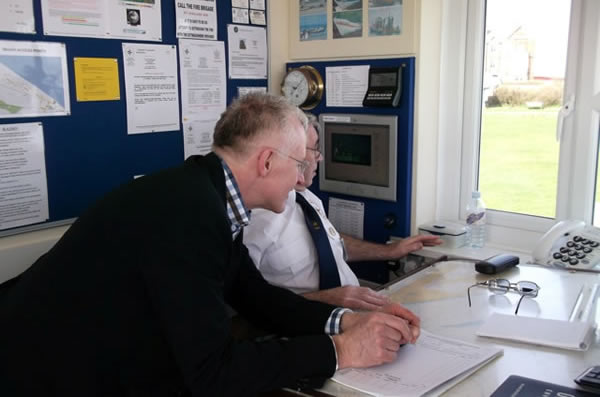 Norman Lamb MP (left) opens the upgraded Coastwatch station at Mundesley.