LATEST NEWS
Record production at Sheringham Shoal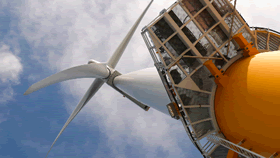 14-01-16
Sheringham Shoal Offshore Wind Farm produced more than 170 GWh in December last year. This is a monthly generation record for the wind farm.
Emergency response exercise at Sheringham Shoal Offshore Wind Farm
02-09-15 Health and Safety is of paramount importance in all offshore environments, and on the afternoon 10 September 2015 the Sheringham Shoal Offshore Wind Farm's emergency response procedures in handling a major offshore incident will be tested through a rigorous practice entitled Exercise Sheringham Response.
Sheringham Shoal sponsors North Norfolk Triathlon
19-06-15 The Sheringham Shoal Offshore Wind Farm, which has its O&M base just outside the coastal town of Wells-next-the-Sea in Norfolk, is sponsoring the 2015 North Norfolk Triathlon organized by Wells Harbour Maritime Trust.
Application to vary the Section 36 Consent for the Sheringham Shoal Offshore Wind Farm documents - click here
The world needs more energy, and in future ever more of its energy supply will need to be obtained from renewable resources such as hydropower, waves and wind. With around 40% of the EU's entire wind resources available in British waters, it makes sense to harness the wind.
The 316.8MW Sheringham Shoal Offshore Wind Farm, located between 17 and 23 kilometres off the coast of North Norfolk in the UK, comprises 88 wind turbines and will generate around 1.1TWh of green energy per annum. This is enough clean energy to power almost 220,000 British homes. Compared to fossil fuels that is a reduction of around 500,000 tonnes of CO² emissions every year.
Sheringham Shoal is owned by Statoil, Statkraft and the Green Investment Bank through joint-venture company Scira Offshore Energy Limited. This project has drawn on know-how from Statoil's longstanding offshore activities and Statkraft's expertise in relation to renewable energy. Statkraft is the operator of the Sheringham Shoal Offshore Wind Farm.