Operational base
In February 2011 Scira was granted a lease by Norfolk County Council to use the former Wells Field Study Centre, which was previously a primary school, as a temporary operations and maintenance base headquarters. It now supports around 50 people involved in the intensive offshore construction operations which are now underway, and which will continue until early 2012 when the wind farm becomes fully operational. It is also home to the Scira Offshore Energy team, which will be responsible for the long-term running of the wind farm.
However by the time the lease on Scira's temporary home at the former school expires in February 2013, and after the wind farm construction has been completed, the organisation will have a brand new home to move into.
The North Norfolk District Council has also granted consent for the construction of an administrative base and associated storage facility located on the Walsingham Estate in Egmere, around two miles south of Wells-next-the-Sea. Wind farm workers will go here every day to change for their offshore duties. A mini-bus will then transport them to the outer jetty where vessels will take them offshore, returning later in the afternoon via the same method. This is to ensure traffic in the town is minimised and additional car parking is not required.
Designed by Norwich-based LSI Architects, the base will be constructed by Mansell Construction Services Ltd, based in Swaffham, Norfolk.
The contractor started initial groundworks in March 2012 and completion is scheduled for the end of the year.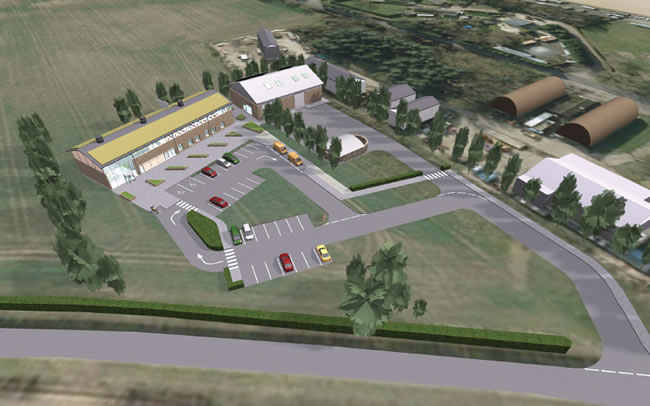 Artists impression of new operations and maintenance base