Wells-next-the-Sea
To ensure that the wind turbines operate to their maximum capacity, an effective programme of operation and maintenance (O&M) is needed, with wind turbine engineers technicians traveling to and from the wind farm every day..
When looking for an O&M base, Wells-next-the-Sea was the natural choice, being only 20 nautical miles from the Sheringham Shoal site. There was one key challenge however – its limited access due to tidal restrictions.
Working with the Wells Harbour Master and Commissioners, and following approval from all the relevant agencies and authorities, Scira developed a dredging initiative that has overcome these restrictions by deepening the harbour entrance channel. This extends the tidal window to provide better access for wind farm work vessels.
A new commercial outer harbour with pontoons has been constructed so that wind farm work vessels do not interfere with established port operations. A specially-constructed dredger – an excavator mounted on a barge with GPS tracking to ensure precision did the capital works and will continue to be used to to maintain the depth of the channel at one metre at low tide. It is testament to the good co-operation between Scira and the Wells Harbour authorities that they chose to call the dredger the 'Kari Hege' after the former Sheringham Shoal Stakeholder Manager, Ms Kari Hege Mørk.
Scira and the Wells Harbour have signed an agreement confirming that the developer will use the harbour as its wind farm operational base for up to 50 years.
By establishing its hub in the town, the Sheringham Shoal Offshore Wind Farm will help to ensure a viable future for the port and provide employment and other economic and social benefits to the area, whilst safeguarding its unique character and charm.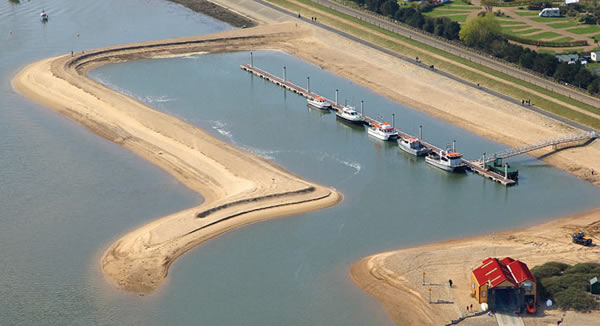 Aerial of the completed harbour at Buxton's Bight